Dispatches from the End of the Earth




Review / January 2023
Dispatches from the End of the Earth
By Ella Fox-Martens

If Australia itself is isolated, then Western Australia—and its small, buzzing capital Perth—is an island within an island. Closer to Singapore than to Sydney, Perth's arts scene can be intensely domestic, gazing back within itself, buffeted by both regional pride and that all-Australian cultural cringe. (A section at the newly revamped Boola Bardip state museum asks visitors, rather anxiously, how the state should market itself to outsiders). The city, with its two million-plus population, boasts a state orchestra, opera, ballet, theaters, four universities, bountiful beaches, and an eyebrow-raising number of successful musicians. Yet in its extreme geographical isolation, and with the highest percentage of foreign-born residents of any city in the country, it is ultimately a place defined by its fraught and tenuous relationships with colonialism, immigration and xenophobia.

It's only fitting, then, that both of the early summer exhibitions running at the Perth Institute of Contemporary Arts are produced by Perth-based artists from the Argentinian and Thai diaspora. Las Hormigas, from Pilar Mata Dupont, and A Puzzlement, from Nathan Beard, are both multimodal shows that utilize vision, archive, and storytelling to interrogate broader ideas of culture and heritage. While Mata Dupont localizes that archive to focus specifically on family memory and the horrors of Argentina's Dirty War, Beard is more concerned with the racism and simplification of Thai culture as viewed through the lens of the majority-white Anglosphere. Staged in a country that had one of the most stringently xenophobic immigration policies in history—and one that continues to deny this history—these shows also provide a quieter, more nuanced repudiation of the myth of Australia.




PICA, with its two airy floors, is a repurposed colonial building, and has retained its high ceilings, wooden floors, and white crown molding. The space is large yet intimate; ideal for Mata Dupont's Las Hormigas, a show consisting of a single-screen video recording, photography, and live performances that then are showcased on a dual-screen system. Viewers may lounge on pink, vulva-shaped cushions to observe the saga of Mata Dupont's grandmother—who as a little girl was instructed to cut ants in half by her soldier father, to preserve the family picnic—and 20th century Argentina at large. The darkly funny story is split into different scenes, and performed by three actors, who alternate between singing, speaking, and playing music. Embellished and dramatic, the narrative owes much to the Latin American literary tradition of magical realism, and is clearly a parable for the atrocities committed throughout the Dirty War. The dual screens jump between rehearsal footage (titled Table Read) and the polished final performances, and highlights a kind of unreliable narration that Mata Dupont revels in. Stories are pliable and memory is apt to morph over the years—especially when subject to trauma. That flickering instability, more than anything, is what Mata Dupont is interested in. This is not the story of a country, but rather the story of what a country has inflicted upon its citizens, most particularly its women, and the alienation and abuse that resulted.

Elsewhere, an earlier body of work, La Maruja, sees Mata Dupont dip again into her family archive, featuring a series of photographs of women clad in face-obscuring robes and hats that suggest traditional Argentinian garments. They clutch at their bellies, or face the camera in ominous poses that bely the cheery orange and blue block colors of their palette. A single-screen video features a woman dressed in those same clothes, relating the story of Mata Dupont's great-great-grandmother María Cristina, and her untimely death. Maternal sacrifice, first evoked by the bodies in the photographs, provides the bulk of María Cristina's story; she is revealed to have died after giving up her child Fito.

If Mata Dupont makes the personal into metaphor, Nathan Beard's A Puzzlement takes a much more direct approach, featuring a single-channel video, photography, and sculpture. The title is taken from The King and I (1956), a musical film portraying the fictional King Mongkut's love affair with a British governess, which Beard draws upon heavily, along with the Thai historical items held by Britain. The video is a montage of cultural and governmental archival material, scored by Mai Saraswati, and flickers through a range of photographs, film, and video to create what the press release termed a kind of "time travel". Aside from The King and I, botanist A.F.G Kerr's Thai photographs appear, as well as clips from The Hangover Part 2, The Beach, Eyewitness, and others. Saraswati's original score is in lively conversation with the video, toying with traditional Thai motifs and melodies, and then skipping back to sweeping, mid-century Hollywood soundtracks, mocking the racism of film composers when it comes to movies set in Asia. It's all a dizzying blur of interpretation, leaving the viewer to trace the connections and implications between seemingly disparate scenes. Beard is not only examining and discarding how Thailand has been portrayed in Western cinema, however, but also challenging the very notion of archiving itself. How can a series of objects and images provide a true representation of place, or people? Whose benefit would that serve in the first place?




It's a line of inquiry furthered in the next room, with a series of sculptures featuring molds of objects—Thai artifacts found in the British Museum mix with figures from popular chain restaurants, and Beard's own family trinkets—ironically finished in gold chrome, suspended precariously on black wire. They're accompanied by large-scale renditions of photographic portraits with the faces painstakingly covered with Swarovski crystals. The lead actors from The King and I, Yul Brynner and Terry Saunders, are featured, as well as Prince Chulalongkorn and A.F.G Kerr himself. The crystals and the press release notes are all in deep red and blue shades named for their relation to Thailand—Siam Red and Thai Sapphire—and the effect is startling and obfuscating. It's another dig at the orientalist view of Thailand that was propagated by The King and I, and has continued to define popular attitudes towards the country. Australia is particularly guilty of the racism that Beard takes aim at; one need only look up politician

Pauline Hanson

to begin to understand the prejudices and violence embedded and supported in its infrastructure.

What Beard's exhibition lacks in direct emotional-affect is compensated in his sharp eye for detail and historicity. Whereas Mata Dupont curls inwards, Beard's gaze is broader, more analytical. He gravitates towards the archive as fact; Mata Dupont treats it as a living creature. Both approaches have their merits and drawbacks—A Puzzlement is, on occasion, a little on the nose, as Las Hormigas can bend towards the overwrought—but they work perfectly in tandem with each other. They are both historians of different kinds.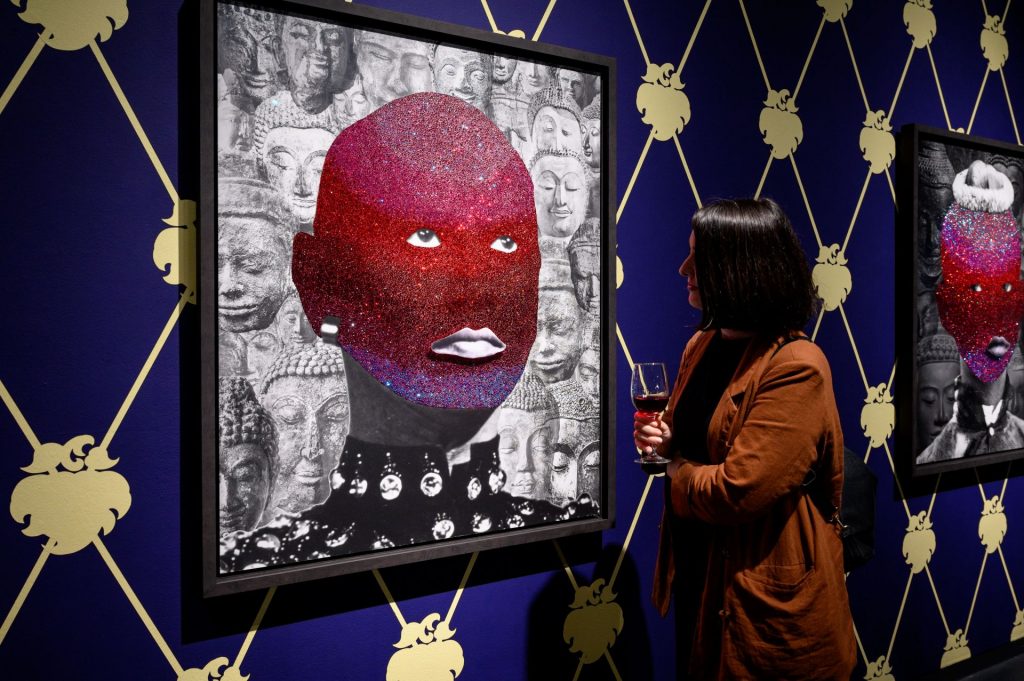 Jokes around 'regional' art may run amok, but the skill and tenderness of PICA's staging of Las Hormigas and A Puzzlement is testimony to the fact that Europe and North America do not have a monopoly on meaning-making. There is valuable art being produced, far from the eye of mainstream media, that could provide much to the international conversation. We would be wise to seek it out.

Image Credits:
Image 1: Table Year (2021), Still, Pilar Mata Dupont. Courtesy of PICA
Image 2: Installation View, La Maruja (2021), Pilar Mata Dupont. Courtesy of PICA
Image 3: Installation View, A Puzzlement (2022); Courtesy of PICA.
Image 4: Installation View, A Puzzlement (2022); Courtesy of PICA.