Home Is A Fire: On Trent Parke by Ella Fox-Martens


Essay / August 2022

Home Is A Fire: On Trent Parke
By Ella Fox-Martens

This February, my home was burning. Through shaky videos and photos sent by family and friends, I watched ash float over the river, and smoke fill the bright, blue sky. This is not abnormal; Perth suffered wildfires just a few short years ago, with a front that almost burned down to the city's skyscrapers. Relatively speaking, Western Australia has it easy. Victoria often suffers the worst of the bushfire season, most recently in the summer of 2021/2022, but the pattern of destruction stretches back for decades. Australia is a difficult place to put your trust in. Violent colonialism has destroyed much of the traditional Aboriginal knowledge and culture that enabled people to live in harmony with the supposedly hostile land for centuries. What we are left with is a mismanaged, misunderstood country that nobody really knows how to exist in. And yet, like feral pests, we persist in trying.

Though I was born in Canada, and raised between Australia and Pietermaritzburg, in South Africa, I am resolutely Western-Australian. Perth—Boorloo in Noongar, the language of the Whadjuk Noongar people—is the place I had my first drink, where I lost my virginity (an underwhelming experience) and got high for the first time. I've fallen in love and had my heart broken there; I have spent days in the lush green karri forests of the south-west, and hiked through countless overgrown bush trails. Nowhere have I known peace like standing barefoot at sunset, on the empty beaches of Cottesloe. Sequestered in London's grey streets, I missed Australia so badly I cried.

For those who have spent their lives in densely-populated areas, it is difficult to reckon with vastness. When you're used to living on top of each other—to functioning in a sea of people and buildings and noises—open space is a luxury, and often an uncomfortable prospect. But if, like me, you have grown up surrounded by nothing but space, Europe presents a spatial and emotional problem. I am fairly used to being homesick for friends and family, but after two years of absence, I feel more and more like I am inhabiting an alien planet.

Author Tim Winton puts this much more elegantly, in his astounding Island Home. "In Europe," he says, "the dimensions of physical space seemed compressed...For a West Australian like me, whose default setting is in diametric opposition, and for whom space is the impinging force, the effect is claustrophobic. I think I was constantly and instinctively searching for distances that were unavailable, measuring space and coming up short." Every day, I gaze out of the window at the dead, small sky, interrupted by council houses and cranes. At night, I am lulled to sleep by ambulances and fights, and woken by the call of car horns. There seems to be no end to the stimuli; no quietude, no respite. Nature is allowed to exist in select spaces, but there is always an element of human control. There is no wildness.

Is it any wonder, then, that I've turned to the art of my home country for solace? I have pored over Tara June Winch's novels, and John Kinsella's poetry; I have gazed at Emily Kame Kngwarreye's paintings through my phone, and listened to Paul Kelly's laconic drawl. I have tried to scramble at the tiny pieces of home, and of myself, that I can cling to. But there is something about a visual reference that provides a particular kind of comfort. What I wanted, though, was not just a series of standard landscape photos, or grainy videos of kookaburras perched on tree branches. I needed to feel what Australia makes me feel; I needed to have the contradictions of my country articulated. That's why, above all, I have returned again and again to Trent Parke's photographs.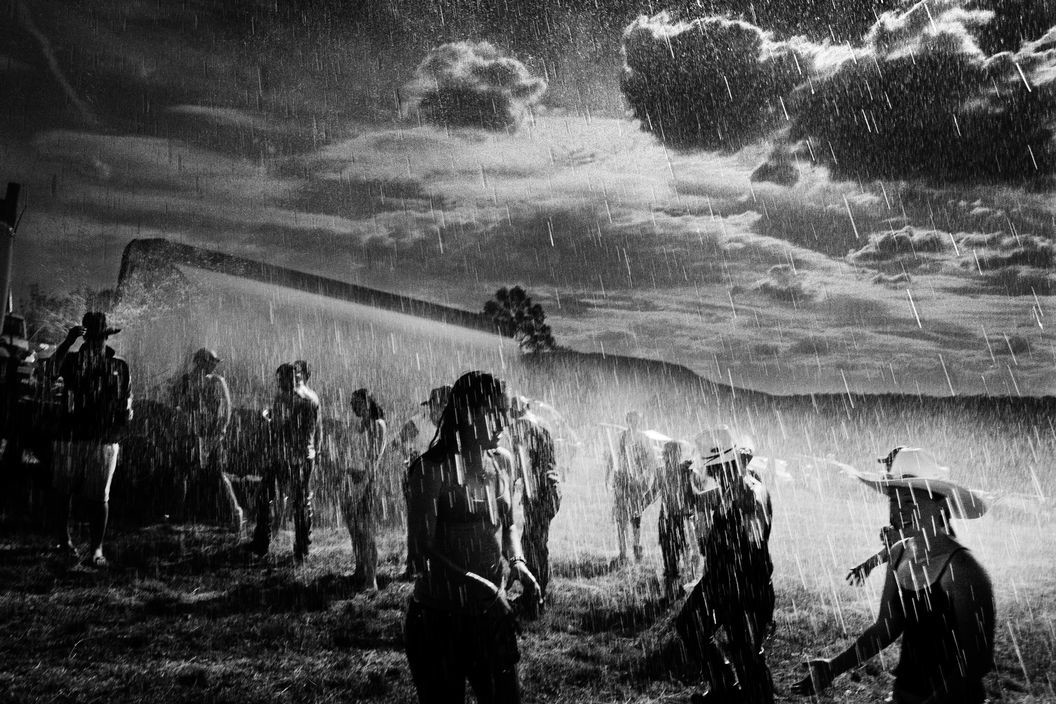 I can't remember where I first saw one of Parke's prints, but I do remember what it looked like. Black and white, harshly contrasted. A blurred, beat-up car, with a skeleton in the back window, imposed on a background of stark, rural fields. The image carries a sense of loose movement; hysteria with an edge of dread. Most of Parke's work is in black and white. He renders Australian suburbs and towns into dreamy, hovering landscapes. Bodies feature prominently. People run and dive into a silvery ocean, their legs and arms flying everywhere, chaotic; elegant. There is a languid carelessness to his composition that reminds me of life during the slow Australian summer.

In his work Seventh Wave, with fellow photographer and eventual wife Narelle Atkins, Parke spent two years at the beach, shooting passers-by as they flung themselves into the surf. "We would thrust the camera at arms length out in front and shoot a single frame," Parke says, "maybe two if we could stay down long enough, before being tossed head over heels by the power of the ocean." The result is stunning; a physical embodiment of Henri Cartier-Bresson's argument that "to photograph is to hold one's breath, when all faculties converge to capture fleeting reality." In one shot, a young girl tosses her blurred hair, scattering water everywhere like a savage mermaid. In another, shadowy figures hover birdlike against the swell, ominous and unreachable. The photos capture the spirit of my childhood and adolescence; so evocative that you can taste the salt in the air, and feel the burn of sand on your feet.


Parke is alive to the light that governs Australian life. He spent another two years driving through the country, documenting everything from deserts to industrial towns, for his collection Minutes to Midnight. "Light," as he says, "turns the ordinary magical." He manipulates shadows and perspective, using shallow focal points and blurred edges to create work that is the only thing that comes close to communicating the true vastness and hostility of the environment, and in turn, the irreverence and ferocity of its inhabitants. Turtles and fish hover in sleepy, star-studded blackness—a nod to Aborginal Dreamtime stories. The exhaust trail of a rally-car becomes a wave of smoke, echoing the curves of natural rock formations found in the Australian interior. Horses snarl and gallop, wild-eyed, aching to leave the frame. Everywhere there is space; room to breathe and think and let the image sink into you. Parke doesn't shy away from beauty or brutality, because he knows how deeply they inform each other. He shoots ghostly jellyfish on one page, their tendrils drifting like silk, and on the next page a dead kangaroo fetus, stark against the soil. Life bleeds into death; light into darkness.

It is that contrast between ugliness and grace—run-down suburbs and wild oceans, lush forests and industrial mining sites—that Parke is the master of. He picks at the tangle of Australia, but doesn't attempt to undo the knots. Here, he seems to say, is what we have chosen to make of ourselves. His work is full of a frenetic kind of grief; the same grief, no doubt, that I felt when I watched videos of flames tearing over the same hills I once walked on.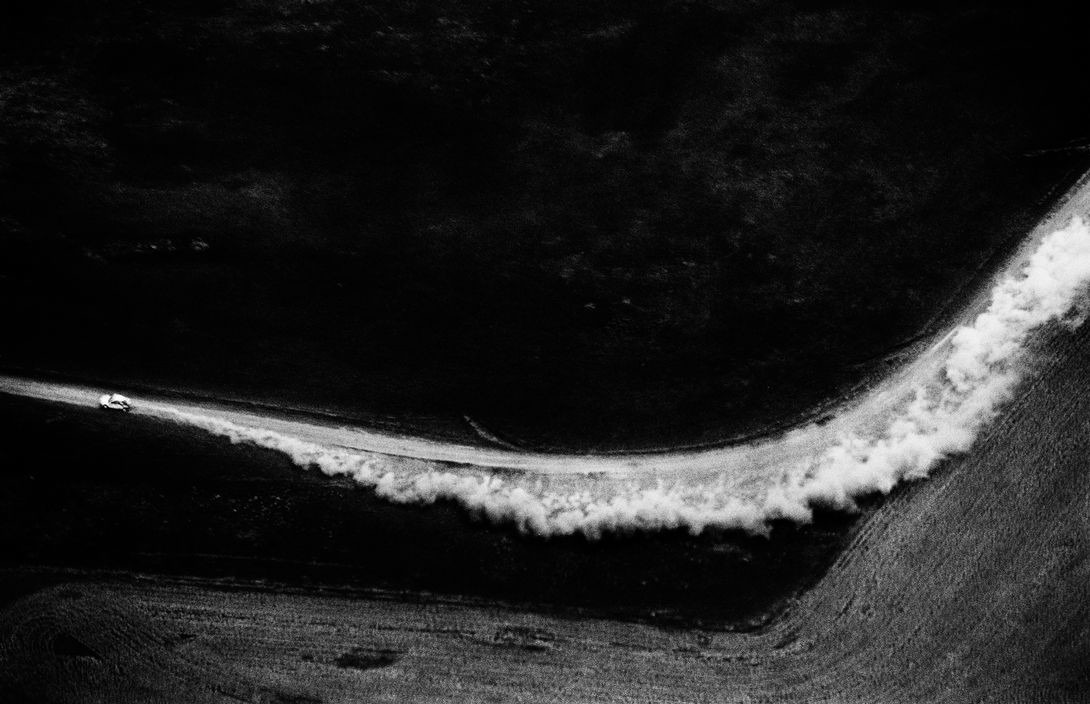 Anyone who has left home will attest that it is a soft, slow death of the self. You lose pieces of who you were, while picking up new ones. By the time I had spent three months in London, I knew I was no longer the same woman who had boarded the flight here. As my new passport will attest, I am English. I have forgotten things already; how to walk on bare feet, or cook damper, or swim against the tide. Before I know it, Perth will exist in my mind like one of Parke's photos; indistinct and full of a feeling that I can't bring myself to name.

That, I suppose, is the function of photography. It has, as Aaron Siskind said, "a feeling of touching, of loving. What you have caught on film is captured forever…it remembers little things, long after you have forgotten everything." Art is a way of holding on to what we've lost; of excavating the people we once were. As time goes on and I become comfortable with the closeness that London demands, I know that this wave of homesickness will pass. I will start to feel less like a foriegn body on unfamiliar territory. I will stop seeing the city as a labyrinth continually closing in on me.
Image Credits:
1-4. Courtesy of Trent Parke via Magnum