On Its Own Terms: Wonder Women at Jeffrey Deitch, New York


Review / June 2022

On Its Own Terms: Wonder Women at Jeffery Deitch, New York
By Alfie Marinaro

Jeffrey Deitch's New York roots go much deeper than his affiliation with LA, but there is something reminiscent of the West Coast when you walk into the art dealer's Wooster St. space. High ceilings and large skylights bring credence to the notion of "flooding" a space with light; in a city that abhors space, the airiness of the gallery is perhaps first experienced as being "full of nothing," whereas in LA that's simply being allowed to breathe. This is heightened by the warm lighting, uncharacteristic of New York's typically cold sensibility — the tonal similarity of the lights to the skylights' sunlight is hardly a coincidence. Dare one say it, it is welcoming.


The gallery's most recent exhibition, Wonder Women, a show of thirty Asian-American and diasporic women and non-binary artists, curated by Kathy Huang and running until June 25th, does its spacious home justice, even on the basis of quantity alone. The risk one runs in such large spaces is a sense of vacuousness, both literally and figuratively, as if work is left undone, and thus words unsaid, but here the gallery's walls are filled comfortably. This is likely helped by Bhasha Chakrabarti's sprawling floor-based mural Brown Jouissance on a Carpet from Sultanabad in the Yale Center for British Arts (2021), featuring a woman and her mirror image consumed in mastubatory ecstasy on an oriental carpet, spread out across the floor directly in front of where visitors walk in. But that is also not to minimize the curatorial wiles at hand — variation in scale is explored to great effect on the raised stages to the right of the viewer when coming through the front door. In these snugger spots, smaller works fill the space with equal force.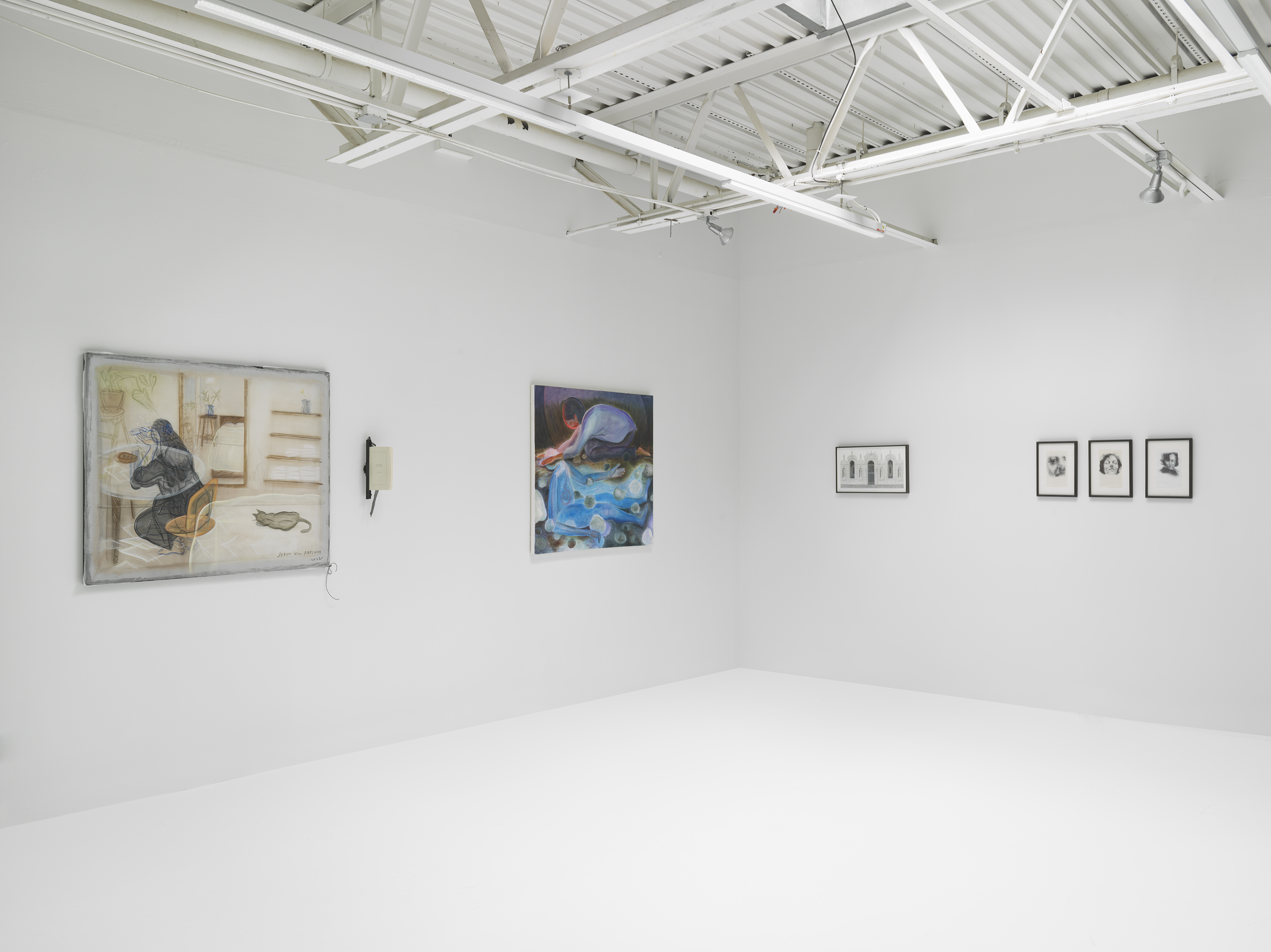 Aesthetic throughlines are difficult to catch, but it's unclear if that is a sufficient lens through which to read the show. Where Huang's curation shines is in its lack of preconceived definition for an otherwise specified cohort's work, and as a result, in the multiplicity of styles that are brought to the fore. Hence, the lack of aesthetic throughlines is perhaps best read as a great success; one wouldn't know this were a show of Asian-American/diasporic women and non-binary artists, meaning that Huang has appropriately committed to displaying the diversity contained within that identity.

As a show that is thus reliant on the strength of individual works, it does a more than satisfactory job. Aside from Chakrabarti's eye-catching mural, Jiab Prachakul's Purpose (2022), Tidawhitney Lek's Napping (2022), and Jeanne Jalandoni's Coloring Book (2022) deliver home runs, while few, if any, disappoint. Here, location matters: the spaciousness of the gallery allows each work to be viewed on its own terms, left uncrowded by surrounding pieces.




Wonder Women is an exhibition very much of the now: it refuses to be backed into aesthetic corners, adhering to a guiding principle with a laxity that nullifies any lingering didacticism that can come with exhibiting a specific community's work. Any coherence it lacks from piece to piece is made up for with the runaway success of a number of the works exhibited. It's tough not to like a show that rides on its own terms, delivering highlights that rival anything else that's shown this year.

Wonder Women, Curated by Kathy Huang, runs until the 25th of June at Jeffrey Deitch, New York, 18 Wooster St.

Image Credits:
1-4. Photo by Genevieve Hanson; Courtesy of the artist and Jeffrey Deitch, New York