On Site: An Interview with Kollektiv Collective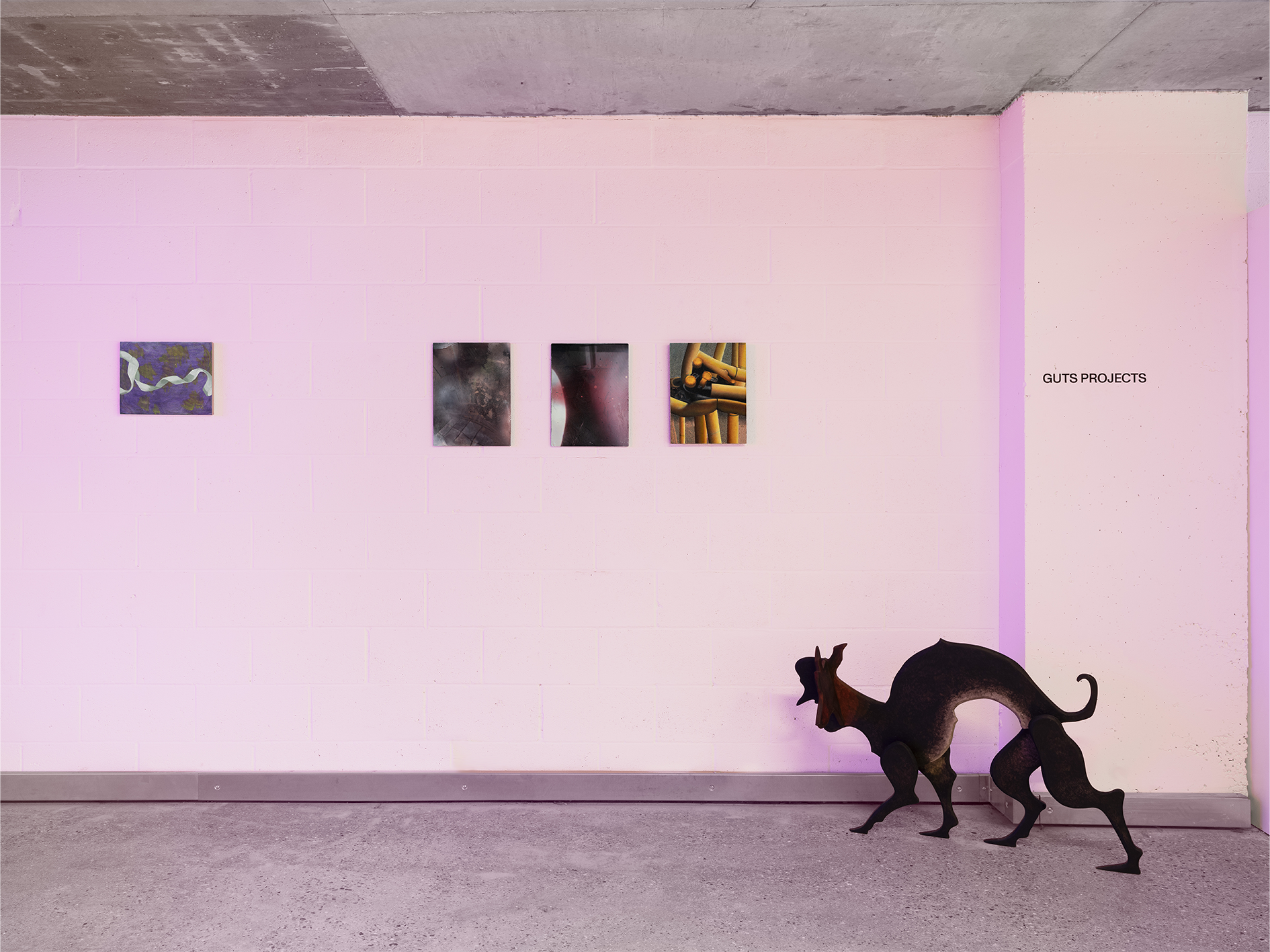 Interview / August 2023

On Site: An Interview with Kollektiv Collective
by Jacob Barnes

Having seen a number of Kollectiv Collective's projects pop up around London, I was quickly keen to learn more. The curatorial project of Sasha Shevchenko and Pia Zeitzen, Kollektiv Collective's interesting, concept-based exhibitions clearly brought something new to the fore. Likewise, a shared love of theory and site-specificity were a welcome jump from many of the socio-temporal themes that have become the norm. Unsurprisingly, both proved interesting interlocutors.


---

Jacob Barnes: What is the cornerstone of your curatorial practice? What is it that guides your collaboration? Is it simply a matter of taste?

Pia Zeitzen: There are three cornerstones I'd say. First, our collaboration is built around our friendship, creating a working environment of mutual support and empathy. In the same way, we also seek to connect with artists on a personal level so for us it is a lot about forging relationships and growing alongside each other.

Then, I would say it's a shared passion for theory and philosophy, which actively guide our curatorial visions. One of the first things we bonded over was our mutual love of philosophy and we became really into drawing up concept-heavy exhibitions, where we spend a lot of time thinking about what it is that we want to exhibit thematically and how to get there. That really anchors our practice because I think often curators work around artists, where they get inspired by someone's work, and the primary concern becomes bringing that work to a space. But for us, it's a bit more of a sociological or philosophical experiment, asking what we can say with art.

Lastly, we work site-specifically. Oftentimes, spaces can inspire concepts, and we are very interested in researching the history of buildings or a given gallery: the conditions of its existence and where it's placed in the broader cultural cosmos. That will allow us to work with or against the space, and anchor the exhibition by providing that context.




JB: How did you find the process of breaking into London's commercial world? What was the process of actually starting to work as a collective like?

Sasha Shevchenko: We were quite lucky in that the first two shows that we did were results of us winning open calls. We applied with the concept, got the gig, and that made the shows straightforward. Those were the shows we did at the Swiss Church and at Christie's. We were part of an initiative Christie's launched with emerging artists and emerging curators, which gave us a boost and really put us out there. After that, it really became a matter of who we knew: London at times feels like "network or die", so you have to go to all the openings and be lucky enough to talk to the right person, etc. So this year's projects were very much results of these kinds of coincidental (or not-so-coincidental) encounters.

JB: Do you ever find that when navigating that commercial context that you need to make allowances or compromises that maybe affect your vision?

PZ: Yeah, definitely. Starting off, you're working with emerging artists and somewhat emerging galleries. And while everyone in London is quite eager to make things happen, and to create exhibitions, everyone's also in the same position, where there's not that much funding for everything. It's really difficult to compensate artists and pay ourselves fees. It's also tricky for the gallerists to do more ambitious installs. However, we've gotten quite used to (as I'm sure a lot of young creatives have) creating without much money involved.

But there are so many incredible artists in London, and there are such beautiful works that we can be lucky enough to exhibit. So I think it doesn't necessarily mean that we have to compromise on quality – only on the extent of possibilities, or little curatorial gimmicks. It would be nice if that changed in the future, but for now we appreciate the simplicity of it. And that's fine.

SS: I'd also add that when considering the site specificity that we often work with, these "compromises" are big parts of how we're already considering curating in spaces. The GUTS show is a good example, because essentially, their project space is their office space. Those types of contexts can be tough, but then we very much incorporated that clash between office and exhibition space in the very concept itself. We played with this duality of "front" and "back" and what it means to be at the back. The constraints can be challenging, but they also inspire us a lot.

JB: I think in many ways, it's the mark of a good curator to be able to adapt to the conditions. Also, there are always constraints, no matter where you are in your career, it's just relative. There's always another step that can be taken, and another reason to reconsider, or a roadblock to doing that.

PZ: Definitely! Working with Christie's, for example, they had much more specific requirements in their space than a lot of commercial galleries will have. Things like painting the walls were not as easy as just grabbing a bucket of paint and a roller.




JB: As you make a turn for the institutional, how will that affect your insistence on site specificity? Of course, many institutions are purpose-built, meaning that the kinds of history you like to dredge up may not exist.

PZ: Many are purpose-built, but many are not. Also, we still have the opportunity to investigate the history of the institution, the areas in which the museums are located, and broader sociological factors. Maybe that's not site specific in terms of relating to the four walls of a room, but it is still steeped in context.

JB: Are there any specific projects that you're looking to work on, or that you're excited by right now?

SS: We're still in the process of securing collaborators, so we can't talk too much about some things. But the other thing we've been thinking a lot about is an experiment with more event-focussed programming. We constantly do something bizarre or strange, and try to retest what "exhibition" really means; to experiment as much as possible. But we haven't done so much with events, and I think it'd be quite interesting to see how our practice could evolve to doing that.

We're currently working on a series inspired by a text, and that's new ground for us. It's a totally different mode of curation, and we're going to spend August just researching, thinking.

PZ: Drawing up a program would allow us to go a bit more in depth with our conceptual focus. Otherwise, for a small exhibition, there's only so much that you can do before it gets overpowering. For our series, we were planning on having lengthier texts and collaborators who can help us create discourse through panels, lectures, and such. In that way, you can really supplement the artworks. We're interested in exploring counter-narratives and contesting fixed conceptions of "reality", and in order to be answering these sorts of grand existential questions, we just need a bit more space.




JB: That sounds an awful lot like a gallery.

SS: Well, that tends to be the natural progression for many young curators. With that said, I think a consistent space would be too limiting for us.

PZ: It's more like event programming — having a screening or a lecture series. A more conversational mode.

Image Credits:



Image 1: Installation view: on the flip side was (9 June – 7 July 2023) at Guts Gallery Project Space, London. Courtesy of Guts Gallery. Photography by Eva Herzog Studios.

Image 2: Installation view: Interlude (30 March – 7 April 2023) at Kupfer, London. Courtesy of Kollektiv Collective and the artists. Photography by Damien Griffin.

Image 3: Installation view: Un/Sense (19 July – 29 July 2022) at Christie's, London. Courtesy of Kollektiv Collective. Photo: Dominique Croshaw.

Image 4: Installation view: In Nihilum (2 – 8 March 2020) at Swiss Church, London. Courtesy of Kollektiv Collective and the artists. Photography by Hannah Archambault