Symbols in Opposition




Interview / February 2023

Symbols in Opposition: Rene Matić in Conversation with Morgane Wagner

The week Rene Matić and I sat down for our interview marked three years since the UK left the European Union. For the (statistical) majority of the country, Brexit meant leaving the EU and finding 'freedom', letting the British be British again. Being a Londoner with foreign parents, I've never really understood what 'Britishness' meant; this confusion is one of the reasons I am fascinated by Rene's practice. Their recent show at South London Gallery, upon this rock, interrogates the concept of Britishness. Hence, the interview began in the most logical place:

Morgane Wagner: What is Britishness?

Rene Matic: People ask me that a lot and I always get stumped. I'm not arsed about what I think about Britishness at all. I'm arsed about the way Britishness sees me and where I fit into that context. I was reading something the other day that said: 'a country is something the happens to you'. I think it's a good way of putting everything like Brexit, the Queen, Trump into context. All those things are just happening to us in this country and there's no agency to escape it. Survival comes from imagining yourself outside of that context, but I feel like a body that's having things happen to it repeatedly, and there's a trauma that comes from that. So, I have no idea what I think of Britishness because it's something that's happening to me.

MW: In that case, is your practice more of a way of resisting what is happening to you? Or is it something you are just trying to accept?

RM: My art practice very much deals with unanswered questions, and it doesn't mean that I'm going to find an answer. It's mostly about the search for the answer, a search for a kind of truth, which I then land upon. I might then find out it's not true, or might disagree with it, or just sit with it. A lot of us haven't asked the question of what we actually think about Britishness and my job is to do that. Obviously, from my own personal gaze, but I think that's an important gaze to look at it through.

MW: On that note, in the exhibition upon this rock, you take inspiration from your family and Peterborough, your hometown. How does looking at Britishness on a smaller scale, in this case at home, inform your work?

RM: I've been thinking about this a lot recently. This is where the concept for my photography series flags for countries that don't exist, but bodies that do comes from. It's more about understanding outside of what we imagine a home or family or flag or whatever to look like. Diaspora creates this energy of in-between-ness, lostness and glitch, which could just be completely embraced.

There's so much safety and energy that comes from feeling grounded. It's serious shit, it impacts our mental health. It's dangerous feeling like we don't exist anywhere. It's a dichotomy of wanting to be at home, but also wanting to be outside of home, especially if home is somewhere like Peterborough, where I didn't feel it was ever enough for me. It held me in a way of family and love, but it wasn't somewhere I felt held me in way of identity.

MW: In a Q&A with Emma Dabiri as part of your show at SLG, you said something that struck me about Peterborough. You said there is nothing there, but that means everything is up for grabs. What did you mean by this?

RM: I wanted to share how important boredom is and how much I like it. I'm really grateful for boredom, because I think it allows for self-stimulation. I think that's why I'm so interested in not sitting still with things and just accepting them. I don't feel like I can change anything, but I just like to muddy it up a bit. I think that comes from being from a place where we had to make our own fun. I wouldn't change it for the world. Obviously, everyone says, I wish I was in London, I wish I was somewhere with bright lights and energy, but I think that's everywhere, it's also in you. There are people in London who don't have that energy, this spark that carries you through. Maybe that's home, I suppose.

MW: Looking at how your energy has manifest itself in upon this rock, I found your use of symbols intriguing. Especially the room exhibiting a wall piece of sixty crucifixes, titled Crucified Skinheads. What importance does skinhead subculture hold for you in your search for answers on Britishness?

RM: I'm really interested in symbols or markers of identity that can be used in opposition to each other. For instance, the crucified skinhead was used by white skinheads, racist, and nonracist, as a symbol of being alienated from society, being outside of everything. But obviously the majority of those people were white. I find it so interesting that they could think that they were outside of something.

I can now use the same symbol to say that I'm outside of something as well, so I wonder where's the inside, where's the country? The crucified skinheads came from that. I used the figure of my Dad to represent this body, which also speaks to Catholicism and the idea of faith that runs through that show because of my Dad's mum being a Catholic and that being a huge reason why she left him. I think she — for me — was always the main audience member, her faith giving her something that she could understand in the show.

I got weird reviews from the crucifixes. People went in and said wow, this is deep. I think the weight of that symbol is out of my control, which I'm obsessed with. That's why the skinheads are the perfect metaphor for me, because it's my culture, skinheads are my culture. I don't have a huge relationship with my Caribbean roots, and my British roots are up for grabs, but I do know about skinheads. I know what it means, because that's where the two opposing feelings within my body meet. Then obviously, we have this whole history of skinheads, where they got co-opted and suppressed, blown up and stamped on and that's what it feels like to be in this country for someone who's a representation of a thing that isn't supposed to happen. The way the media, the people, and the government dealt with skinheads is the same way that they're dealing with people living within the margins now. It's an interesting one.

MW: So, do you feel with this piece and this exhibition you are taking back control of the narrative?

RM: Definitely, we all are. I'm protective over that culture, but at the same time I think it's a kind of Afrofuturism in my head, or more like an Afro-History. It's taking things that I see work or could have nearly worked and trying to drag them through. There are no new ideas. I'm annoyed we get stuck in fantasy and futurism. I'm excited when I find something that's already happened that I can sit with. That feels safe to me and feel there are possibilities.

It's tiring to be always guessing, it's tiring to not know what's going on, and that's what is happening in our country right now. We have no fucking idea where we're at, so I think, what has happened and what came from it? That's why I'm obsessed with the dance and music movements, because all of them in Britain came from a time of political strain. Through it, music, community, fashion and all of this stuff that has saved us at some point has grown. But what can save us right now? We need something. We can't change anything. I don't feel like I personally, here in this flat in Peckham, can change anything other than the way I feel and that's why I'm obsessed with dancing and all of those kinds of things that give little golden nuggets of survival.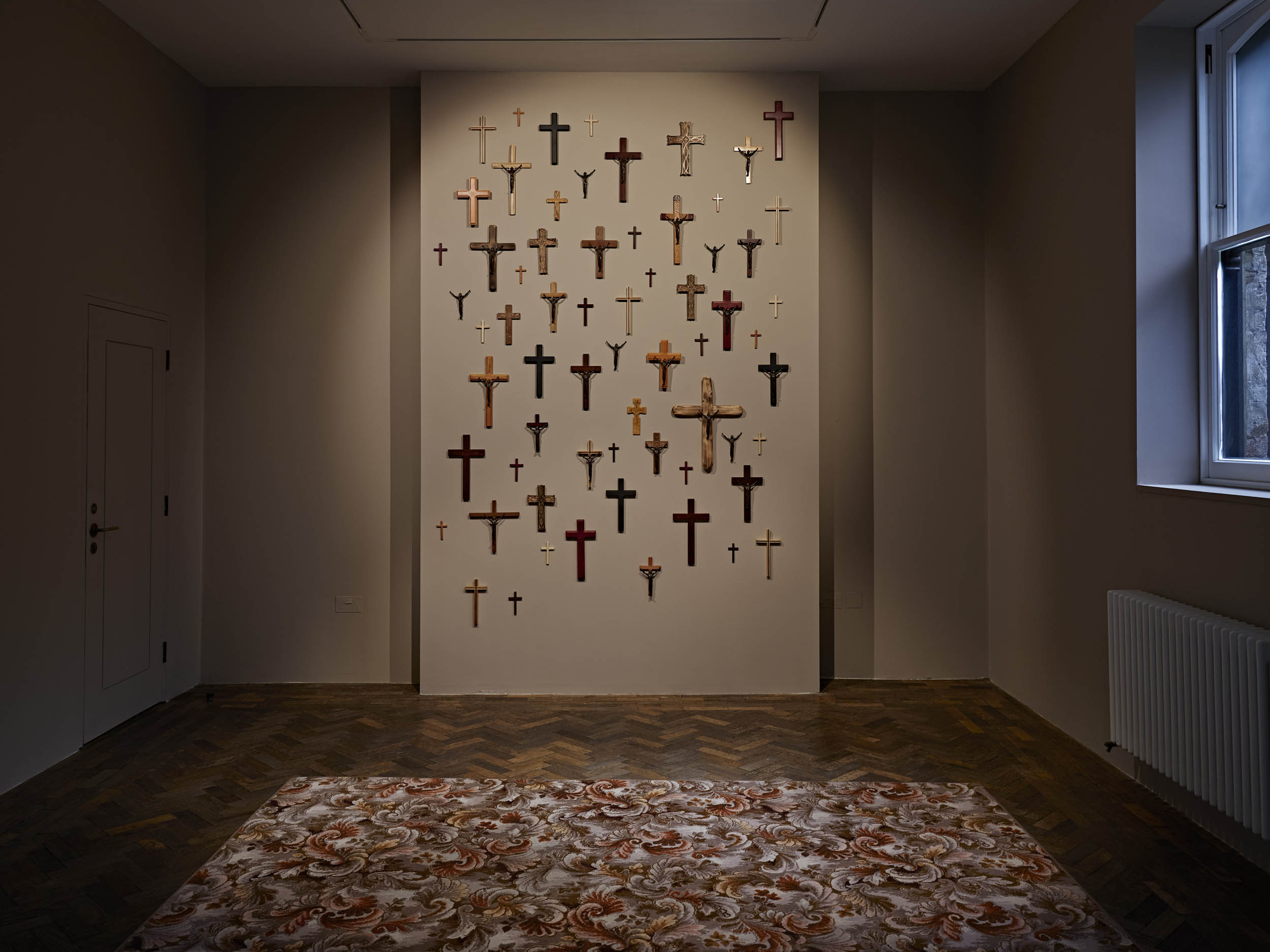 MW: Through this yearning for community, do you dance yourself or is it more of an appreciation?

RM: A little bit of both. I've made films before of me dancing. I made one called Brown Girl in the Artworld III (2019) and that was me dancing in front of a pub that had loads of St George's crosses on the outside. I didn't expect it; I just saw this pub and said, this is the stage, let's go! I wasn't prepared, I just danced. Everything I've ever learned comes out and that comes from all of the different spaces I've ever existed in, like the code switching. The way of moving your body is so amazing to me because it's a language that mostly hasn't been colonised, so, it's amazing to speak through that. I'm not that interested in it being about the body, I'm just interested in it being a language that is outside of all of that.

MW: I love the spontaneity of seeing the pub and wanting to make it your stage. Is that how you usually get inspired to start a project; what is your process?

RM: I don't really have a process. That's why I'm gassed about this idea of a country being something that happens to you. That's what it's like, my work presents itself to me, not in any grand way, but topics appear and I deal with them. It's the way that I deal with them that comes out in the work, like the film I made for the exhibition, Many Rivers (2022). The photo series is an ongoing project that happens to me over time. The crucifixes have been an idea for a while. In my 2018 show with Vitrine, Born British, Die British, I started to use the 'Crucified Skinheads', a great example of carrying an idea through and not being done with it, but having a period of time where I was able to breathe and then come back to it. I don't feel a huge agency over what I'm producing, which is amazing. The process and the work are very honest, which is scary and hard. There's also a huge generosity towards the audience that comes with that, which is taxing, but it's worth it.

MW: The extent into which you dig into your personal history for your film Many Rivers does seem like it could have been taxing for you. How did you feel filming your family so closely? How does it feel sharing not only your story, but their story as well?

RM: It was interesting showing the film at first, because my friends hadn't seen it. They knew what I was doing, but it took two years, because it was so hard, for myself, for my Dad, and for everybody involved. I had to be so careful with everybody, because they deserved care. This is not something they do every day. But in all honesty, I thought, I was good at compartmentalising and removing myself emotionally from something and working on it, but it's not until after when I really felt the weight of it. I was okay until I showed the film Kunstverein Gartenhaus in Vienna. The film was showing in the same room as the PV and I could just hear their voices and see my mum, my auntie, my dad and my brother on this huge screen and they looked vulnerable in a country that isn't mine or theirs. That was hard; I hated it. I went back to the hotel and thought, what have I done? It took two years to make the film, but it took 6 months to a year to actually understand our story and to be honest, I don't think I ever will; this isn't a story that's done. That's hard, because I like to leave things behind and I expected to be able to leave this behind. But I can't. It continues, but thank God that these stories continue — that's what's all about in the end.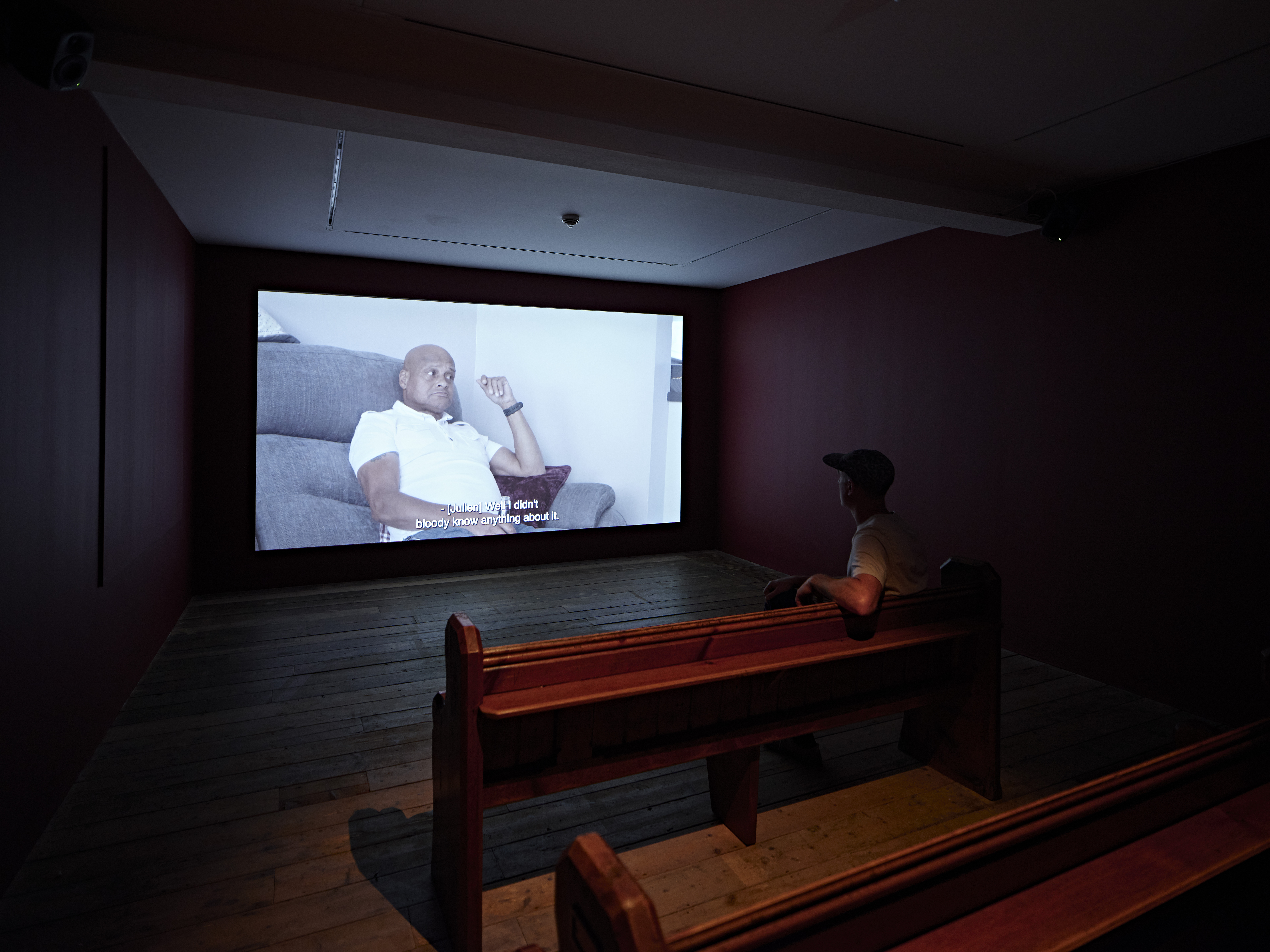 MW: Your show has now moved to Vienna, congratulations on a travelling show! Thinking back to our Brexit anniversary however, I am intrigued to hear how the exhibition and the interrogation of Britishness was received there.

RM: It was intense. Our country is on display right now; the mess is messing. I kind of enjoyed saying, 'So you've seen this on the news, you think you know what's go on. Well, here is a very small perspective that isn't going to be shown on the news for you'. The past is really manifesting in the present, meaning it isn't new what's going on, but we go on. Putting a nice spin on it, being like, 'born British, die British', and this is what's happening in between. It's not fixed, there's no truth. Hopefully there are little bits of love that can come out from it. It's about planting my body in a place saying, I'm here, I am alive, I'm not dead yet. I absolutely refuse to die. So, taking the show to other countries and giving it to white audiences, especially non-British audiences, is really cool. It inserts me into the British narrative, which I don't think I'm supposed to be in. Draw them in and fuck it up, basically.

MW: What's next for you this year?

RM: I hope this show will go on. I really want to show it in Ireland, that would be important to me. Other than that, I've got new things coming up. I have a show at the Martin Parr Foundation in July, which is going to be exciting. Then I have a show in New York in October. I also have a few group shows, which are really fun, figuring out a new context or letting someone else figure out a new context, rather than it just being me.

MW: Does this mean you letting Britishness breathe a bit? Have you been able to distance yourself?

RM: It's hard. It's there on every phone call with my Dad, it's there with every Facetime with my mum. It's there on every train journey back to Peterborough. It's there in literally every single childhood memory I've got. You can't detach from that, it's a huge part of me. It is me; it doesn't end. The work from upon this rock is going to stay with me through everything, and just manifest itself in different ways. The context in which it's voiced changes, the context in which it's experienced changes, sometimes it's joyous, sometimes it's not. That's life. Born British, Die British.



Image Credits:

Image 1: Image Courtesy of Rene Matić
Images 2-5: upon this rock (Installation). Courtesy of South London Gallery