The Performance of [de]installation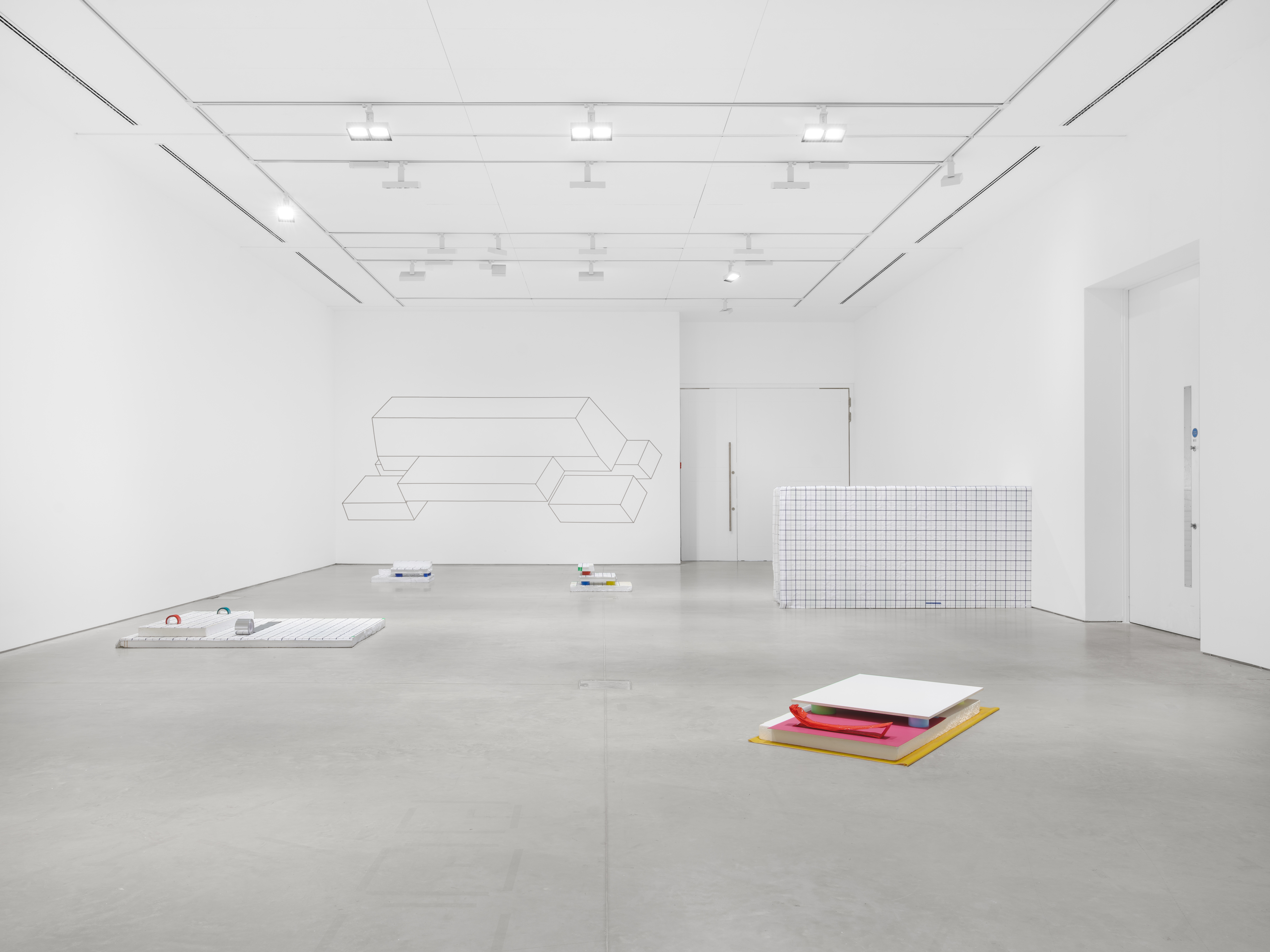 Interview / January 2023

The Performance of [de]installation: Anne Tallentire in Conversation with Brooke Wilson

A flurry of movement commenced on entry into the space. Final activities of polishing, taping and clearing were all underway in preparation for the exhibition's opening the following week. Previous performances by Tallentire have utilized the assemblage of installation; on this occasion, however, the presentation of such activities were for my eyes only. I met Anne Tallentire once before, during the installation of Present: work seth/tallentire, Manifesto 3 (Instead of partial object…) in 2017 at Hollybush Gardens in London.

Fortuitously, I would be invited to conduct the following interview under similar circumstances.


---

Brooke Wilson: We are currently sitting amidst the installation of your upcoming solo show Material Distance. This feels rather relevant to the discourse of your practice where systems of our built environment are interrogated through actions of assembly and disassembly. In many ways, the act of installation is very performative — using the body as a mediator between object and action. What are your thoughts on this?

Anne Tallentire: Yes, I think that can be seen here in Look Over 2 (2022). This work relates to Look Over (2022), staged at the ICA Theatre earlier this year, where the making of the work was carried out in front of an audience. The performative aspect of what you see today is not public, however, the conditions of making and the enactment of that making are intrinsic to the ultimate form of the work.

BW: There is a performance scheduled with Look Over 2 that will close the exhibition giving the viewers time to activate the work ahead of your intervention. I think its timing is interesting, what made you choose to have the performance at the end?

AT: The idea behind having the performance at the end is to explore the notion of disassembly. Without giving it all away, viewers will witness, if you like, processes that happen in relation to the production of art and exhibition-making frequently. In the production of work, things are undone as much as done, and I am fascinated by the undoing and the experience that brings to me and the viewers' encounter with the work.

BW: Will this be the first time the performance has been in reverse?

AT: No. Look Over at the ICA concluded with the disassembling of the work at the end of a four-hour process of making. Here at The John Hansard Gallery, the performance will focus on the disassembly element of the work.

BW: Earlier, I mentioned the idea of viewer activation; in this work particularly, it seems appropriate to expand on that.




AT: As you can see the work starts here at the threshold of the space. Once you walk through this doorway, you are immediately implicated in the work. So, if someone is looking from outside into the gallery space, they will see anyone who happens to be in the space as integral to the work itself. That differs from the other galleries, where the convention of viewing discrete wall and object-based works is more familiar. This, however, consists of a 1.1. scaled floor plan drawing of two spaces that, through its immersive form, is attempting to question living space and the restrictions many people face with unsuitable accommodation. You can choose to stand outside, at the edge of the work, or to look at it from a distance. When you enter you might, once you are inside, recognize some of the familiar proportions delineated, such as a doorway or a bed. What you might not immediately realize is that you are standing in a drawing based on two-floor plans, one an office and the other an incredibly small home.

BW: It's interesting about the other galleries. As you said, the more conventional display of objects, means the works act as obstructions, imposing a suggested route of navigation on the viewer. However, the nature of Look Over 2 removes the conventional way of viewing, allowing more freedom and immersion; you can step over, walk through, and ultimately dictate the way you interact with this work.

AT: Yes, because it's flat and on one plane and you can come inside the invisible volume of the very work itself. Whereas in the other works, you are at a distance.

BW: They suggest different modes of processing and experiencing.

AT: Exactly. I made a similar floor work to Look Over at The Mac Belfast in 2021, based upon a plan drawing of a three-bedroom housing association apartment. It was installed in a similar gallery with a concrete floor and gray walls. There I used the type of building material, tapes, and strings that you can see here. For Look Over 2 I am, as you can see, using similar string and tape for the first part of the process. They will eventually be replaced with tapes of various colors and thicknesses. The recyclable parcel tape delineates the outer dimensions of a bedsit in a converted office block, hinting at the sense of impermanence that so many people suffer in terms of unsuitable housing.




BW: Also, those tapes are easy to rip and quite futile, like the materials a lot of new builds are made from.

AT: Completely. The tape you see at the edge of this space marks the circumference of a room in the building across the way. When I first came to visit the John Hansard Gallery I was struck by the view from the large window in Gallery 3 to the building across the square, which was empty then. I was keen to make a work that articulated a physical relationship between it and the gallery. When the building was taken over by the University in late summer I was able to gain access to measure one of the rooms in there and think about how these measurements might intersect with the gallery. It was striking how similar in size the space was to the gallery space I wanted to make the work in, suggesting a standardization and acceptable measurement not always accessible in — for example — deregulated housing schemes. A lot of what I do involves meticulous measuring. I don't know why I am measuring so much, when I find math so challenging, or why I have ended up with this kind of practice! It is very strange.

BW: Is it not a way of helping you understand the space you are in? There is something to be said about dimensions and their function in relation to one's understanding of space.

AT: Yes. There are some measurements that are very familiar to us. We live within a matrix of measurements. They can at times be seen as an instrument of power through building regulations and health and safety or the lack of such applications. The de-installation of this work will be about unraveling a tightly-measured plan that will in its undoing hopefully lead to speculation as to the relationship between power and measurement.

BW: Will the audience be invited into the space during the performance?

AT: Yes, people will be encouraged to come in and find a place from within the form to see the breakdown of the work. It will dissolve. Shall we move into the other room?




BW: You mentioned the window earlier, but now we are in here, it's worth noting how much it pulls you in. You begin to watch people and re-evaluate the hidden dimensions that you unconsciously interact with daily. It's interesting to watch people perform with the outside world in that way and seems especially appropriate regarding this work. Previously, you have exhibited Area (2022) at eye level, however, here, the works are elevated. They feel outside of your reach and allow the viewer to make links between the physical space of their everyday environment and the unknown things they can't quite access.

AT: It's true, and when you approach the gallery, your first encounter with this work might be if you happen to glance at the tall window from outside. I always wanted to use the height in this room and to encourage the viewer to look up. It's a slight paradox as the shapes of the panels in Area come from drawings to plan. They are life-size representations of items of furniture from a shared common area located within the housing complex of Terrassenhaussiedlung in Graz. People living on the estate brought items out of their homes to this shared space and arranged them into different configurations for different types of activities. What interested me there links back to our discussion about recognisable dimensions and the familiarity of measurements and feelings of security. A lot of my early work looked at displacement and I am suddenly thinking now, talking to you, that working with the 'every day' and the ordinariness of things in every sense of the word, is all about looking for significations of the familiar, to not feel displaced.




BW: There is a sense of familiarity within the work, where you feel a personal connection to the environment or objects being presented, but you can't quite place it. In thinking about parameters of space, which in many ways you experiment with differently in each room of this exhibition. I can't help but think of the show's title — Material Distance — and how diversely you explore these internal and external distances.

AT: I think you're right. An additional work, which I am going to complete tomorrow, is going to take a visual line from the university room you can see across the square to the back of the Barker-Mill Gallery where Look Over 2 (2022) is situated, using a small series of painted dots on both the glass in here and the gallery over there to depict this connection. This will be doing exactly what you said, as well as playing with scale and perception. We often look from the outside, speculating about places we can't enter and that we have no place in. I am interested in those thresholds in daily life, as well as how and where we find our place.

BW: With your mention of placement and displacement, my mind is drawing links to your two works on paper in Gallery 2. These intimate works were part of a larger series entitled Plan Works (2020) you produced during the lockdown, discussing the collective displacement we all faced during that time and how we all attempted to look for security in our direct environment.




AT: This is interesting. These works as well as Setting Out 2 (2020), came out of having nowhere to go and engaging with the space I found myself in. The Plan Works relate to the floor plans of my home and the cream card represents the dimensions of paragraphs relating to books that I was reading at the time. In many ways, this work brings together the space of thought with the physical space and the limitations that come with that.

BW: To a large extent, it highlights how space affects your thinking. In lockdown specifically, there was a real shift in scale for many people's practices. I think this was partly due to space limitations but also perhaps as a result of working in a more intimate setting. This is touched on in your Plan Works but it opens up a much wider dialogue and makes me wonder what being confined to a space can enable.

AT: I think that's a very good point; being confined to a space enabling something, is a really interesting thought. Sometimes you think being confined to a space is inhibiting rather than enabling, but in this exhibition, I would like to challenge that.

Material Distance is organised in partnership with The MAC, Belfast and Hollybush Gardens, London, supported by Henry Moore Foundation. The closing performance of Look Over, Part 2 took place on 14th January 2023. A publication produced alongside the exhibition, including new texts and extensive photography, was also published.
Image Credits:

Cover image: Anne Tallentire, Material Distance, installation view, John Hansard Gallery, 2022. Courtesy the artist and Hollybush Gardens, London. Photo: Eva Herzog.

Image 1: Look Over 2, 2022, builders string, builders tape, Masking tape 9093 x 859 cm. Courtesy the artist and Hollybush Gardens, London. Photo: Eva Herzog.

Image 2: Ground work, 2021, builders string, masking tape, builders tape, 766 x 1054 cm [detail]. Image: Anne Tallentire, 'But this material…' The MAC, Belfast, 2021. Photo: Simon Mills.

Image 3: Anne Tallentire, Material Distance, installation view, John Hansard Gallery, 2022. Courtesy the artist and Hollybush Gardens, London. Photo: Eva Herzog

Image 4: Area, 2018, 22 laminated MDF panels, dimensions variable. Image: Anne Tallentire, 'Plan (…)', Grazer Kunstverein, Austria, 2018. Photo: Christine Winkler.

Image 5: Plan works, 2020, Xerox EcoPrint. Xerox Ecoprint paper 75gsm, 200gms card, masking tape, metal frames, 27.3 × 25 × 2.5 cm. Left to right: There is after, Lines of escape, One might say, First example. Image: Anne Tallentire, But this material… The MAC, Belfast, 2021. Photo: Simon Mills.