1. The Tender Art of Navot Miller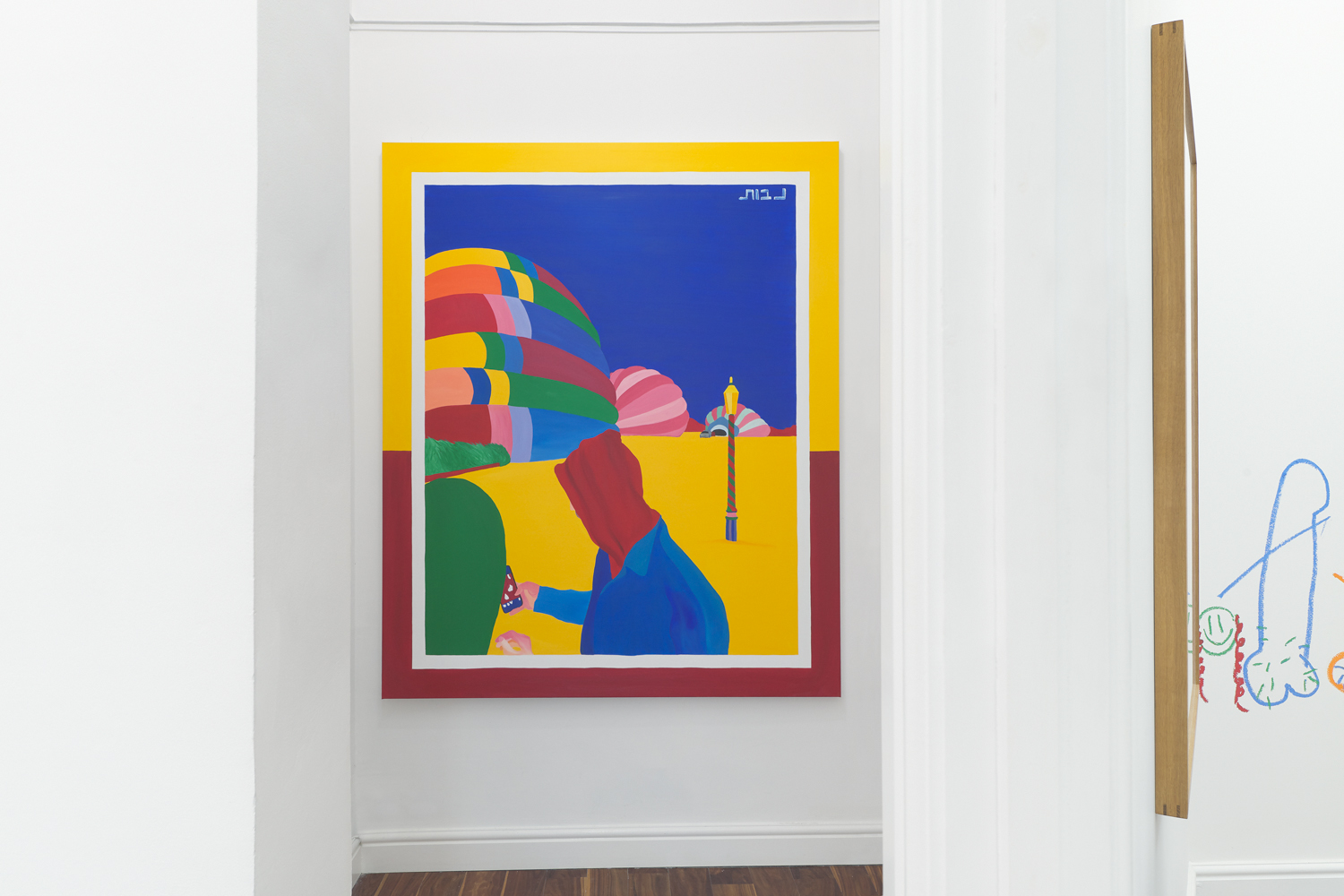 Feature / May 2022

The Tender Art of Navot Miller
By Millie Walton

In his first UK exhibition at Grove Collective in Battersea, Navot Miller has drawn penises on the walls, squiggly lines, and a deranged smiley face. The Berlin-based Israeli artist's practice is one that centres around play, but while the wall drawings and video works on display evoke an air of casual spontaneity, his paintings reveal a more consciously curated perspective of the world that seeks to illuminate the mundane.


It's tempting to perceive Miller's scenes as dreamworlds purely because of their graphical, bricolage aesthetic and searing colour palette, but what Miller captures is reality, or rather his experience of it. Miller uses both photography and video to record the world around him, creating a kind of visual diary, from which he then selects scenes to paint, transforming them from fleeting moments to something more permanent. This idea is even more present in his works on canvas. Here, the surface lends the paintings an impression of monumentality: not just in terms of scale, but also in an art historical sense. Our museums are filled with portraits of men, but not like these. Blazing with colour, Miller's visions of male relationships are sensual, proud and exuberant.




The figures that appear, in both the paintings and videos, are the artist's friends, family, lovers and acquaintances, caught in intimate, everyday acts. We are voyeurs, peering into the intimate spaces of strangers, and yet, the tender way in which Miller paints and frames his subjects also invites us in. This is perhaps most clear in Zach and Willi the 2nd in Lake Como, the largest painting in the exhibition, which depicts a kind of cross-section view of a house set against an orange sky and mountains rendered in various shades of blue. The composition is spliced into two scenes: a bathroom where a naked figure reaches an arm behind the shower curtain and a bedroom where another figure lounges topless on a mattress, holding his phone in one hand and smoking a cigarette with the other. The spaces are visually connected by a thick green line that runs across the bottom of the painting, but there's also synergy between the uneven, sweeping brushstrokes that run down the sides of the mountains and bring soft definition to the figures' bodies.

While all of Miller's work could be said to be the visualisation or recording of memory, neither his paintings nor videos dwell on the past with a sense of mourning; rather they transport the viewer into a kind of buoyant, endless present. This is not, however, some kind of social media filter effect where images are brightened and faces are smoothed over to appear younger and more radiant: Miller's scenes are filled with human chaos, mess, and imperfection. In the painting, Boy in Shower, for example, a naked figure stands underneath the stream of water, his body and groin speckled with hairs, while the long handle – of a mop? – lies propped against the wall in the opposite corner. Meanwhile, in the video works, we're shown close up shots of squinting eyes, open mouths, forkfuls of food, and bare flesh alongside cityscapes, moving trains and natural landscapes that are overlaid and edited together with pop song soundtracks and crackly audio recordings of friends and family sending travel recommendations, messages of love and appreciation. There's a semblance of a narrative, or at least, a sense of wholeness, but it feels loose, baggy and unexpected in the way that life so often is. Nevertheless, what the work offers, ultimately, is a form of escapism or rather a re-centering of reality. It reminds us of beauty and joy to be found in the everyday, which, after what's been a relentless few years for many, comes with an immense sense of relief.

Image Credits: 1. James Bryant, Installation Shot of Soo-Hi and Hot Air Balloons by Navot Miller, Courtesy of Grove Collective. 2. James Bryant, Boy in Shower by Navot Miller, Courtesy of Grove Collective. 3. James Bryant, Installation Shot of Alex & Philippe & Willi & Zach. by Navot Miller, Courtesy of Grove Collective.