Warm Summer Nights: New Exhibitions at Stephen Friedman Gallery, PM/AM, and Darren Flook


Review / June 2022

Warm Summer Nights: New Exhibitions at Stephen Friedman Gallery, PM/AM, and Darren Flook
By Mark Harley

It is generally accepted wisdom that I ought not to see anything I intend to review by going to the opening. Openings are loud, chaotic affairs, and more often than not, one gets only an obstructed—and often passing—look at the work on the walls. But, the hum of the opening makes the exhibition as much as an event as it does an object, and one gets a sense of how art functions in the outside, social world: informing, not dominating, a room, at its best a valuable interlocutor, at its worst, part of the furnishing. This at least can bring a new perspective—it's all well and good to talk about art in tones of hushed, rather sterile reverence, but there's value to be had in observing it out in the wild.Wild, to be sure, is a word that comes to mind when describing the June 8th opening of Stephen Friedman's new group show,

From Near and Far: Collage and Figuration in the Contemporary Age

, curated by Katy Hessel and Deborah Roberts, With the gallery spread across three spaces on Old Burlington St—two spaces for the group show, one for a solo show of Roberts' work opening concurrently—viewers leaked haphazardly from the gallery spaces into the streets, texting and chatting, taking pictures of the work for social media or future photo doom-scrolling. That said, the energy felt more a reflection of the slack summer heat than anything that threatened to boil over; wildness expressed a creeping expansion—and thus incursion—into public spaces, as opposed to any real kind of frenzy.




This may have been the nature of the works: world class, no doubt, but reflective of a cultured sensibility that is well-supported throughout the market. This is no slight: these artists are popular for good reason, and every show's remit need not be to redefine the wheel. Nonetheless, the works lent themselves to the comforting satisfaction of seeing what you had expected, and that pleasantness proves a good conduit to idle summertime chat. However, to not mention the imposing strength of, in particular, Jordan Casteel's hulking painting Harlem Public (2021), taking up the entirety of the back wall, Amy Sherald's beautiful, nuanced A golden afternoon (2016), or Kenturah Davis' planar vessel x (2022), with her deft textile and mixed-media practice, would be criminal: no matter how accustomed one becomes to seeing images of their work, they are breathtaking in person.




The next day, back in Central London to make a night out of gallery-hopping, I stopped at the opening of Amanda Ba's first solo exhibition,

The

Incorrigible

Giantess

at PM/AM, running until the 3rd of July. The product of a seven-month residency with the gallery, the exhibition was exemplary of the exciting young artist's practice. Surreal, humanoid figures often populate pastoral landscapes, but are possessed of a vigor and sensuality that recalls Roman or Greek mythology. This, of course, is no accident—the press release goes as far as to note that the battle between the Titans and Olympians for universal supremacy served as inspiration for Ba's Titanomachia.





Importantly, this draws upon one of the sites of Ba's great power as a painter: the artist's command of art history and critical theory is played as a tool towards producing works that often evade comprehensive description, motifs delicately deployed as both reference and open question. Too often, the artist as thinker conflicts with the artist as doer: the final product appears muddled and overwrought, too concerned with expressing its own intellectuality than composing a great image. Ba suffers from no such problem, and one could be forgiven for enjoying the works simply as they were, with no mind towards headier references.




Finally, with daylight on my side, I headed over to the opening of Tim Noble's Imaginary Beings at Darren Flook's eponymous gallery. Once I fought through the flurry of elbows to get into Flook's packed second-floor walk-up, the struggle proved entirely worth it—Noble, most notable for his practice alongside former partner Sue Webster but now producing work solely under his own name, delivers carefully constructed, if wholly irreverent, all-white jesmonite casts, worth any staircase battle and then some. Perhaps the most intriguing of the exhibitions I saw, Noble entirely eschews notions of perspective or composition to create lurid (but deeply human) scenes of almost paranoiac intensity. There's shit and piss and monster pussies and cock trees, and still collectively they evoke a deeply sympathetic terror, as if a confused child has simply produced that which they are most scared of in order to demystify it. Of these, I found Untitled (1) (2022) particularly alluring, but each appears but a piece in a body for which "series" is the appropriate unit of measurement; examining each in its own right would prove only so fruitful. But for however cool the opening may have been, my conception of Noble as a deeply complex and thoughtful practitioner remained thoroughly intact, certainly giving me enough to chew on before I head out for next week's openings.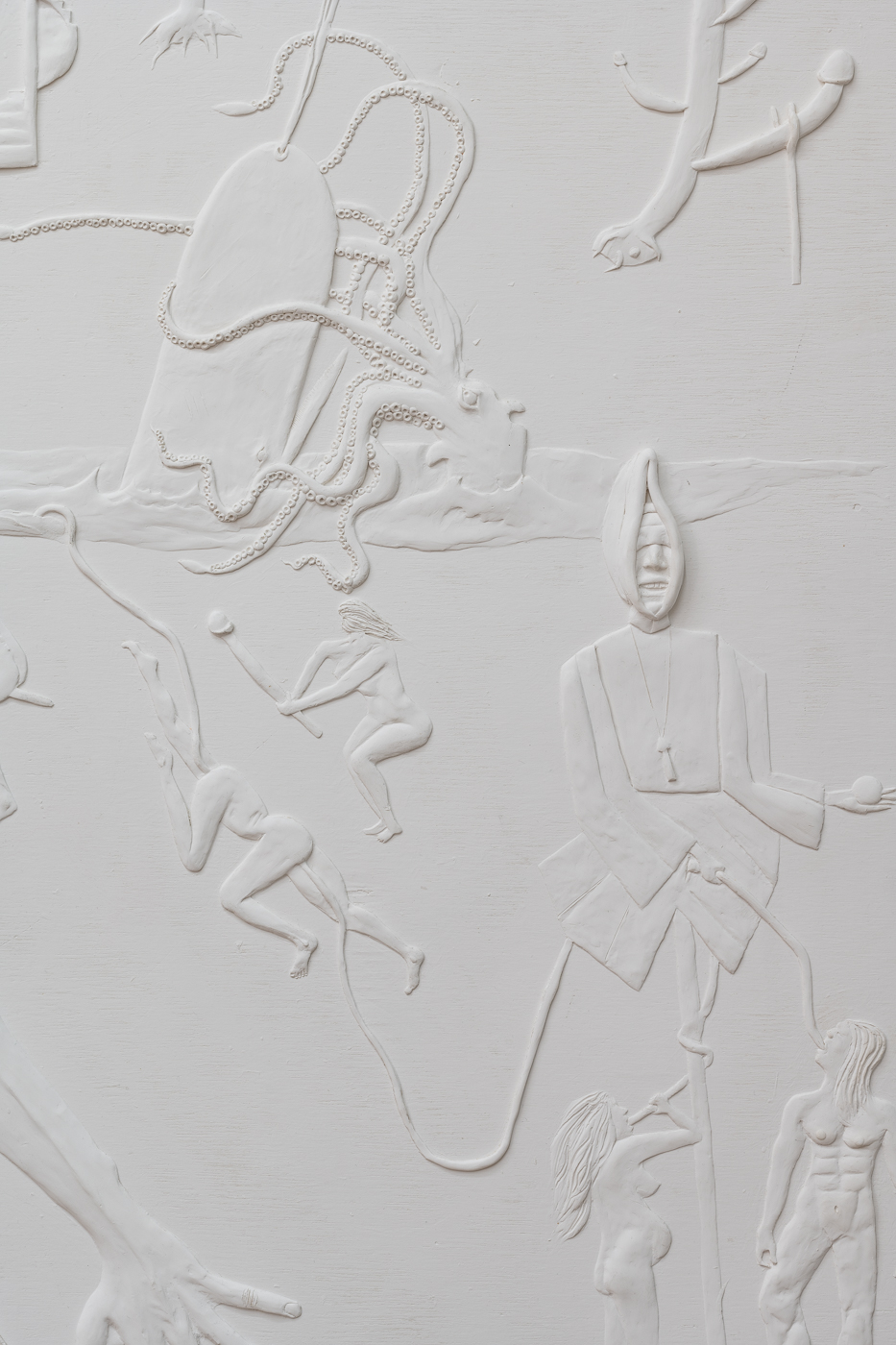 From Near and Far: Collage and Figuration in the Contemporary Age, curated by Katy Hessel and Deborah Roberts, runs until the 23rd of July at Stephen Friedman Gallery, London, 25-28 Old Burlington St, W1S 3AN.
The Incorrigeable Giantess runs until the 10th of July at PM/AM, London, 67 Great Titchfield Street, W1W 7PT
Imaginary Beings is open at Darren Flook, London, 106 Great Portland St., W1W 6PF

Image Credits:
1-2. Installation views: 'From Near and Far: Collage and Figuration in the Contemporary Age', group exhibition, Stephen Friedman Gallery, London (2022). Courtesy Stephen Friedman Gallery, London. Photo by Mark Blower. 3-4. Courtesy of PM/AM
5-6. Courtesy of Darren Flook.